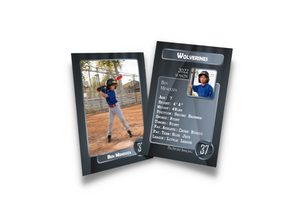 We can print your custom Trading Cards double-sided in full color with a full bleed. Cutting is included to a standard 2.5"x3.5" inch* rectangle card size. 
Printed on Bright White Smooth double thick 100lb Laser Cardstock for the sharpest color and buttery feel.
Full Bleed
Single or Double Sided Color
Price is per card.
🎨 Artwork: How does your artwork look? We recommend files be 300 DPI resolution or more, to ensure a great print. Double-Sided Cards will need a 2 page PDF or a zipped file with 2 images in them of your business cards. 

*Cutting: We try to cut it exactly to size, but there is a slight margin for adjustment on each machine, so it's as close to the desired size. 
*FULL BLEED? Add .25 border on all sides of your card, this helps so we don't cut too close to the edge.