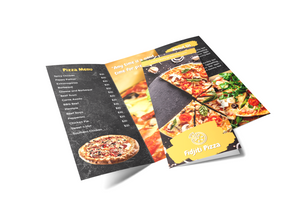 All of our Full Color Brochures are printed on Bright White Smooth 28lb Laser Paper for awesome color print quality. 
Double-Sided Full Color
28 lb Laser Paper
Trim to Bleed or No Trim (Choose before uploading)
Comes Tri-Folded, Ready to Distribute!
Great for Brochures, Price Lists, Menus, Newsletters, Mailers, Event Planner, 
Double-Sided Printing: Please make sure your Adobe PDF file has 2 pages before uploading it to our site.
White Edge: These will have a 1/4 inch border around all sides and you'll also want to make sure your margins are set correctly to .25" inch on all outside sides of the paper and on the inside fold areas the margins need to be .5" inch. 
Full Bleed: Full bleed just means we trim off the white edges to give you the image or color to the edge. Just depends on the size you want to end with. Do you want 8x10.5 full bleed or a true 8.5x11 Full Bleed (because this one would need to be printed on a larger paper and then trimmed down).